Clémentine Chambon interviewed by Nodus
Design —
Aug 22.2021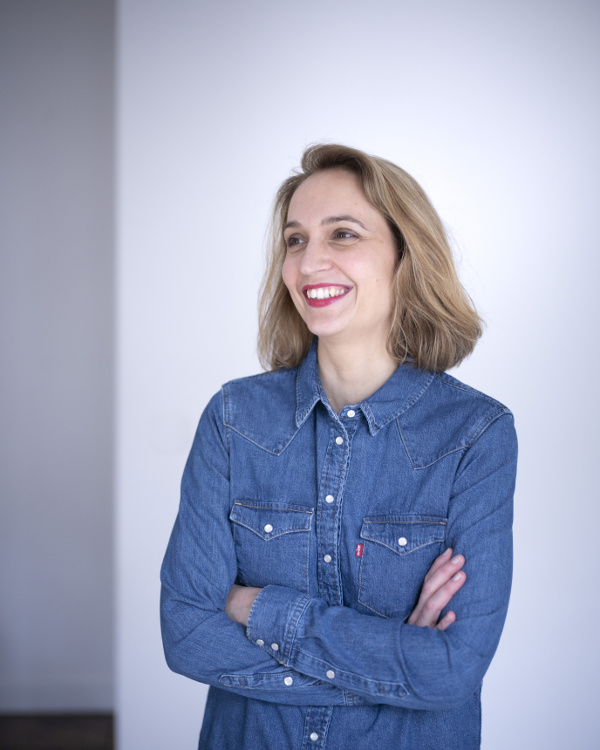 Nodus collaborates with the world's most famous designers. These creatives are famous for their style and the continuous innovation they bring with their ideas. One of these artists is Clémentine Chambon. We interviewed her. Let's get to know her better and find out what her ideas on design are and what she envisages for the future.
How would you define the essence or primary characteristics of your work? Every designer has their own style, their own distinctive characters…. What are yours?
My work is built on an approach that is both very artistic and very technical, with a pronounced interest in organic form, material and light. My creative methodology is developed through successive stages of experimentation with design and volume over structure, surface, ornament and technology.
I am by nature extremely curious and am regularly fascinated by new themes that I have been tackling for several years with various projects and that intertwine with each other (for example: from rattan to paper, from paper to light, from light to color, from color to paint, from paint to medium, etc.).
The resulting productions touch a wide variety of fields of application: games, furniture, textiles, accessories, clothing, etc.
Perhaps the hallmark of these creations is an aesthetic that invokes a very strong sensory relationship between the user and the object, and also attention to modes of production, their inscription in a contemporary context.
What are the people or stories that have most influenced you in your career?
My parents have always been very sensitive to design and, as soon as they could, they created a collection of furniture by great Italian manufacturers. They passed on this passion for Italian design to me. I grew up surrounded by the furniture of the masters, Gae Aulenti, Vico Magistretti, Michele De Lucchi, Giandomenico Belotti, Ettore Sottsass, whose iconic objects were my playmates.
Later, during my studies, I met designer François Azambourg. His practice of experimenting with materials particularly interested me.
Between 2003 and 2006, I worked for designer Marc Newson in Paris. I trained in his studio, enriched by an international culture, I learned to manage projects with extreme rigor and high standards.
Before founding my own studio in 2019, I collaborated for ten years with a fashion textile designer. It was an important experience, especially when it came to soft materials, color and pattern.
How does your country's culture and traditions enter into your designs?
I find myself more in a Mediterranean culture than in a French one, even if I am very attached to the know-how and history of techniques rooted in the territory.
I believe that this Mediterranean influence can be found in my objects, through the sensuality of the forms, a certain exuberance in the colors, a taste for movement, which sometimes borders on disorder. On the other hand, the very strong light of the Mediterranean region inspires me enormously, it is a driving force for creativity.
How do you see the future and what do you think the new trends in design will be?
It's complicated to project long-term with the current pandemic, but it's clear that the new constraints of social life that we are undergoing will have repercussions on our uses, behaviors and aspirations.
I think we are moving toward two very strong parallel developments, both the dematerialization of professional relationships, accentuated by the rules of social distancing, and the refocusing on the cocoon of personal habitat, which is being enriched with new functions. A school environment, a workplace, a sports arena: they require new structures and new digital tools.
We can say that today, in 2021, we are living a bit like before the industrial revolution, with the return of work at home, only it is obviously very connected online.
On the other hand, I think that our fundamental need for physical interaction, which we have been deprived for more than a year, will lead us to seek more materiality, sensoriality and ethics in our choice of objects around us. In this sense, it seems to me that craftsmanship, handmade products and local production have a bright future ahead of them.
What do you think about sustainability today? Do you think it is a basic element of design, or is it an added value?
Today we live in such a climate emergency that the notion of sustainability must be at the forefront of every design's genesis.
As such, it has an impact not only on the creation process, but also on the choice of materials, the selection of production sites, manufacturing tools, distribution methods and of course the projection of the recyclability of the object according to the latest technologies. This is an inescapable constraint, today we cannot afford to create environmentally irresponsible objects, with the risk of not being able to look at ourselves in the mirror in a few years. I find it an exciting and challenging constraint, a source of new creative responses.
How important and how often is the social aspect present in your projects?
I often consider the social issue in my projects, especially since I regularly work on problems of finding new fields of application for historical skills, sometimes in disuse. This is an extremely complex reflection, which raises real issues beyond the field of design. At times, social and environmental issues are contradictory. As a designer, I don't have control over these issues, but I do have control over the scale of the project. We can propose the choices we feel are most appropriate, with time scales, transitions and evolutions.
Is design more emotion, more rationality/functionality, or both in equal measure?
I think we are alternately in a more rational or emotional approach, depending on the stages of the project, the stakeholders, the stakes, the context and the strategic reason for engaging in the projects. There is also the notion of the image that you want to convey through the object, the values that you carry through this creation, its aesthetic impact, the type of design that you assert. If you defend the work of an author, it is possible that the result is strongly characterized by an emotional value, without impeding the object's properties of use.
What are your thoughts on the role of textiles in design?
The role of textiles in design seems to me to be very different, depending on the culture of the country and, consequently, depending on the way design is taught there. In France, for example, textiles and design are often in separate professional fields. They have separate teaching methodologies, cultures, and projects. And with some of the changes that are happening in schools, and also by professionals, the boundaries are becoming more blurred. Which is really interesting. This is all the more interesting because if we look at the future of textiles, the evolution of technologies and materials, we can honestly believe that textiles are one of the most innovative materials for design.
To conclude, an aphorism or phrase that represents you…
Rather a philosophy. 🙂 "Existence precedes essence" by J.P. Sartre.
Nodus creates prestigious rugs.
Bring luxury into your home!
>>> CONTACT US! <<<

Nodus has reinvented the luxury rug. It was in fact the first brand to propose the concept of the rug as a work of contemporary art.
Nodus has always created exclusive products that furnish the most beautiful homes in the world. Do you want to make your home inimitable as a work of art?
Bring a hand knotted rug of the highest quality and design into the spaces of your daily life! Give your family and the people you love the beauty of a dream masterpiece! Every piece of Nodus is designed by famous Designers, making it recognisable and prestigious. In this way, each rug is unique: you will not find another one like it. Like all beautiful and unrepeatable things, one piece in the Nodus collection sets you apart and speaks to others about your taste and elegance. CONTACT US!