Custom Persian Rug Where you should buy in Italy
custom rugs —
Sep 07.2022
Custom Persian rug not only carries a wide variety of high-quality handmade carpets in various sizes, colors, designs, and quality levels but also produces handmade carpets on order. For pricing and turnaround time details, please email us or fill out the form on our website, and we will see you as soon as possible.
Because these rugs are hand-knotted to order, buyers and decorators of all stripes can pick the colors and patterns that best suit their space. If you're looking for a custom Persian rug, you should realize that a machine won't make it. It will be hand-woven by master weavers of our nodusrug, so expect a lengthy wait period.
And if you need any help decorating your home, our professional interior designer is here for you. You can email us pictures of the space you wish to decorate, its size, the color of the carpet you have in mind, and your decorating budget. We're here to assist you in making the best possible decision for your home.
custom Persian rug in Italy
Our handmade custom Persian rug can be commissioned in any size, in the colors shown or those of your choosing, and from a wide variety of materials, including but not limited to wool, silk, wool-silk blends, Viscose, Tencel, or combinations thereof.
We produce exclusive masterpieces to meet the needs of our discerning clientele, who value originality, rarity, and the ability to tailor their purchases to their preferences. We can make a custom Persian rug out of any design you can imagine, whether it's a recreation of an heirloom carpet from another era, a modern interpretation of a classic pattern, or even your favorite painting.
Custom Order Rugs
Ordering a custom Persian rug or carpet is a novel approach to shopping for rugs because you are in charge of the design of your rug. It's not surprising that this is quickly becoming one of the most popular ways to acquire rugs.
We make rugs and carpets to your specifications, including color, pattern, size, material, and finish. You can pick a pattern from the variety we offer on our website, then modify the color scheme or combine it with a different carpet's grade or kind.
We can advise our customers on the best rug choices for their unique homes because of our extensive background in the industry.
Since there is usually not a wide variety to choose from when searching for carpets of a given color, pattern, or size, it is wise to go for custom-ordered carpets that meet all your criteria in the most thorough way possible, which is why we always advise our customers to take this route.
Custom Handmade, Hand Knotted Carpets & Rugs
We only provide a custom Persian rug option so that each of our carpets can be one-of-a-kind. Any rug from the Jazz or Ciele collections can be custom-made to your specifications, whether you want a hand-tufted or hand-knotted rug, a particular size, a specific quality, or even a specific form.
Each of these rugs is individually manufactured in a personalized style and will symbolize an extension of your individuality.
We are committed to providing a novel viewpoint in the field of handmade rugs. Because of this, we have abandoned the conventional practice of displaying a fixed stock of carpets in predetermined colorways, patterns, etc., from which you are expected to select.
In our opinion, that belongs in the classic Oriental setting of hand-knotted carpets and rugs.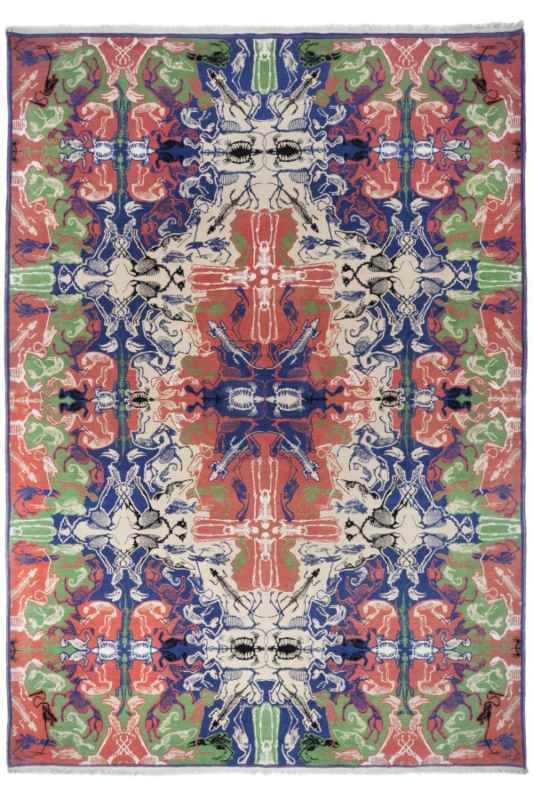 Hand-tufted Custom Made Rugs
A tufting cannon with front-mounted needles are used to create a hand-tufted rug. A tufted gun is used to insert soft and shiny threads into the foundation to make creative floor pieces. A cotton base bearing an impression of the design is lashed to a frame during production.
Due to the established mechanism, the yarn is shot and pulled back on the surface. This one-of-a-kind machine has everything built right in, so it can make the loop and the cut automatically.
After the tufting process is complete, a latex backing is added to the flooring for further durability. Greater effort equals greater strength and a higher quality finish when the weight increases.
Nodus creates prestigious rugs.
Bring luxury into your home!
>>> CONTACT US! <<<

Nodus has reinvented the luxury rug. It was in fact the first brand to propose the concept of the rug as a work of contemporary art.
Nodus has always created exclusive products that furnish the most beautiful homes in the world. Do you want to make your home inimitable as a work of art?
Bring a hand knotted rug of the highest quality and design into the spaces of your daily life! Give your family and the people you love the beauty of a dream masterpiece! Every piece of Nodus is designed by famous Designers, making it recognisable and prestigious. In this way, each rug is unique: you will not find another one like it. Like all beautiful and unrepeatable things, one piece in the Nodus collection sets you apart and speaks to others about your taste and elegance. CONTACT US!